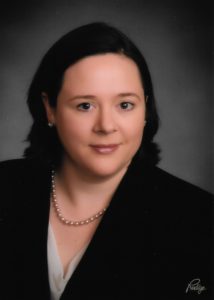 Ericka A. McFee – Owner and Principal Attorney
Born and raised just outside Chicago, in Northwest Indiana, Attorney Ericka A. McFee's practice focuses on a broad range of U.S. immigration and nationality matters, from business and family immigration to removal defense. She also dedicates her free time to volunteer with various legal aid organizations in the Chicagoland area, including National Immigrant Justice Center, The Resurrection Project, and World Relief.
Ericka received a Bachelor of Arts degree in Germanic Studies from Indiana University in Bloomington, Indiana, and is a proud lifetime member of the Indiana University Alumni Association. Between undergraduate studies and law school, Ericka spent several years as a professional in the corporate relocation and global mobility industry.
In 2010, Ericka discovered her true passion and calling as a fierce advocate for others, and relocated to Boston for law school. She earned her Juris Doctor – with a concentration in immigration law – from New England Law | Boston in 2014, and was admitted to practice in Illinois and Massachusetts later that same year.
Prior to launching McFee Law Offices, P.C. in 2016, Ericka interned and worked for prominent law firms in the U.S. and abroad. She launched her own firm in order to broaden her practice from business immigration and include other areas of immigration, as well as other areas of law.
Ericka is also a proud participant in the Justice Entrepreneurs Program (JEP), an incubator program for Chicago's up-and-coming entrepreneurs in the legal service industry who are committed to providing access to justice for individuals with low to moderate incomes.
Contact us today to schedule a consultation appointment with Attorney Ericka A. McFee.